"A lot of this building tech industry, they always come in and say, 'We want to be a SaaS.' And if you're going to be a SaaS, great. You have to continue to add value, and that value doesn't disappear ever. It has to continue, and it has to be able to sustain multiple patterns and multiple years.

So it's not that easy. You have to be very careful on what you sell, because you can be successful for one year. And we've all seen those companies that come in make a really big noise for one year, and then disappear, because they don't have a sustained value selling proposition. And that is very critical to be able to sell the technology in our industry."

—Tyson Soutter
Welcome to Nexus, a newsletter and podcast for smart people applying smart building technology—hosted by James Dice. If you're new to Nexus, you might want to start here.
The Nexus podcast (Apple | Spotify | YouTube | Other apps) is our chance to explore and learn with the brightest in our industry—together. The project is directly funded by listeners like you who have joined the Nexus Pro membership community.
You can join Nexus Pro to get access to a deep dive into my reaction, my top highlights of this episode, and a full transcript of this and all episodes. Pro members get these weekly deep dives, access to the Nexus Vendor Landscape, and can participate in exclusive events with a community of smart buildings nerds.
Episode 19 is a conversation with Tyson Soutter, Global Business Development Manager Digitalization at Siemens HQ in Switzerland.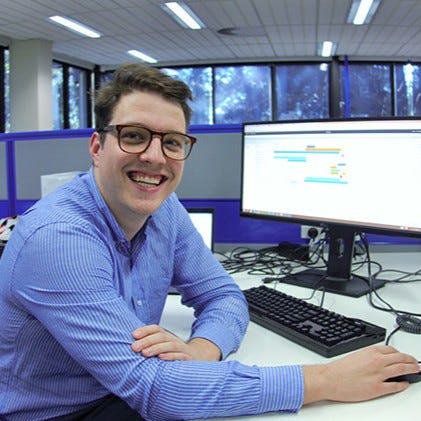 Summary
This is great primer, maybe even a master class on selling smart building solutions, whether you're selling internally or externally.

We talk about selling semantic modeling, analytics, advanced controls, digital twins, indoor air quality, and even carbon reduction.

No buzzword was left out.

And much, much more.
Mentions and Links
You can find Tyson Soutter on LinkedIn.
Enjoy!
Thoughts, comments, reactions? Let us know in the comments.
---
Music credit: The Garden State by Audiobinger
---
THE ABOVE AUDIO, VIDEO, SUMMARY, AND LINKS WILL ALWAYS BE FREE. PODCAST DEEP DIVES WITH MY REACTIONS, MY TOP HIGHLIGHTS, AND THE FULL TRANSCRIPT ARE EXCLUSIVELY AVAILABLE TO MEMBERS OF NEXUS PRO.
Here's this week's deep dive outline:
My reaction, including highlights:

Tyson succinctly explains his where Comfy, Enlighted, and J2 Innovations fit into Siemens's offerings

Tyson answers James' favorite question

Keys to selling smart building tech and how to align yourself with your clients long term goals

How solutions need to work in silos but also have the ability to scale up when the silo walls come down and how to sell to owners that don't have a vision or a strategy

How the first step in selling is conceptual and strategic, not focused on any one solution

How Tyson sells the concept of semantic modeling in a simple way

Tyson's take on advanced supervisory control and where it plays

The value of digital twins in design and construction, bridging the gap to operations, and during the O&M phase

The technology acceleration Tyson is seeing due to COVID-19

How IAQ sensors are going to change the way building rating systems work and potentially office leases

Why you see so many smart building startups coming from Australia

Full transcript