(Smart) building blocks Part 1: The Silos [Nexus Newsletter #125]
Hey friends,
The Oxford Dictionary defines 'Lore' as:
"A body of traditions and knowledge on a subject or held by a particular group, typically passed from person to person by word of mouth."
We, the Nexus community, are a particular group. That might be the understatement of the year...
And we've been building up a body of traditions and knowledge on the subject of smart building technology for the last 2+ years. I know this because our (particularly) nerdy terms and acronyms—IDL, ASC, etc—are gaining steam and showing up in specifications, investor pitch decks, and conference agendas around the world.
Part of my job as the founder of this amazing community is to help define and curate our lore. So today, we're kicking off a ten-part series of newsletters on the core concepts that come up again and again in this newsletter, on the Nexus podcast, in the Nexus Foundations course, and in Nexus Pro gatherings, and in the community chatroom.
Let's call them The (Smart) Building Blocks. If you want to access all 10 parts of this series, check out our white paper: Nexus Lore.
Lore is never written by one person, so send us your feedback for v2!
We'll start at the beginning...
The Silos
Picture a single room: perhaps a conference room in an office.
You have all these siloed systems: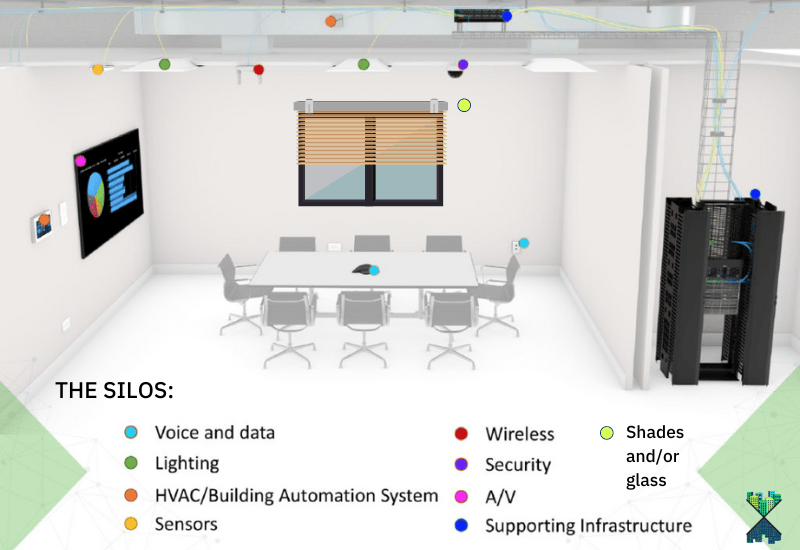 And that's just one room! In a building or campus, you have full tech stacks for each system serving all the other rooms.

Now picture a portfolio of many buildings! Different silos for each one.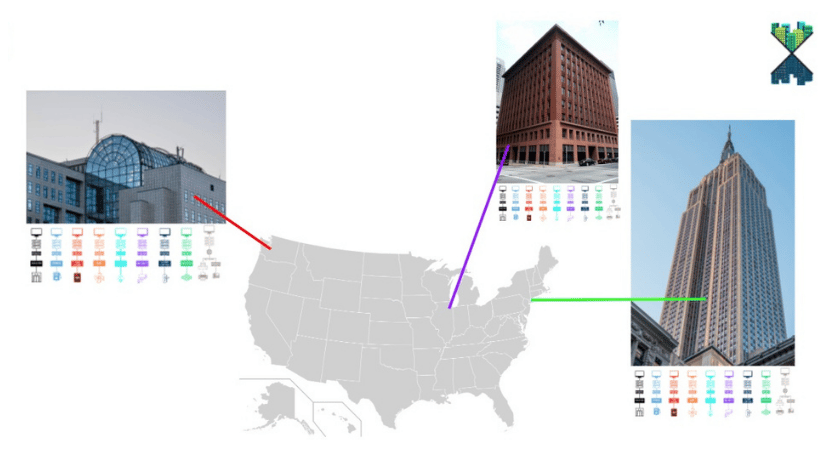 These systems exist to provide the core outcomes building owners need:
A productive, safe, healthy, efficient, comfortable, collaborative occupant experience
Minimal carbon emissions
Minimal expenses, maximum revenue
But right now, in most buildings new and old, these systems could do a much better job at achieving those outcomes. There's room for improvement in (at least) four ways.
First, each silo can be further optimized to play its role better. For example, the HVAC system could get better at maintaining comfortable conditions.
Second, silos could share data to aid in that optimization. For example, the sensor silo could share occupancy data with the HVAC system, which could reduce energy during unoccupied times.
Often, the outcomes are competing with each other. For example, imagine you're asking the occupant of the above conference room to control the blinds, lights, or thermostat... they're not productive, they're probably not doing a good job, and they're probably annoyed.
That brings us to our third need for improvement: We need to optimize all the systems in unison to make sure we're not jeopardizing one outcome in favor of another.
Finally, our fourth opportunity: our silos are typically designed with only one type of stakeholder in mind. Buildings are diverse ecosystems of stakeholders—each want different things.
For example, an HVAC technician wants to fix that damper actuator, the property manager wants to minimize hot/cold calls and keep tenants happy, the sustainability manager wants to know how much energy the actuator fix will save. How can one user interface help all of them?
With so much room for improvement, why do silos exist? While many in our community are doing great work removing silos in the construction process, the reality is that these silos are baked into how buildings are built.
Most of our existing buildings were constructed with separate specifications, contractors, technology stacks, and service vendors for all the different systems in the building. And after the building gets built, those silos tend to last a long time!
That's it for Part One! The Silos are the starting point for the smart buildings industry. Stay tuned for Part Two: Overlays & Point Solutions.
What would you change about Part One?
Hit reply and let me know,
—James Dice, Founder of Nexus Labs
---
✖ At the Nexus
Here's everything worth sharing from Nexus HQ this week: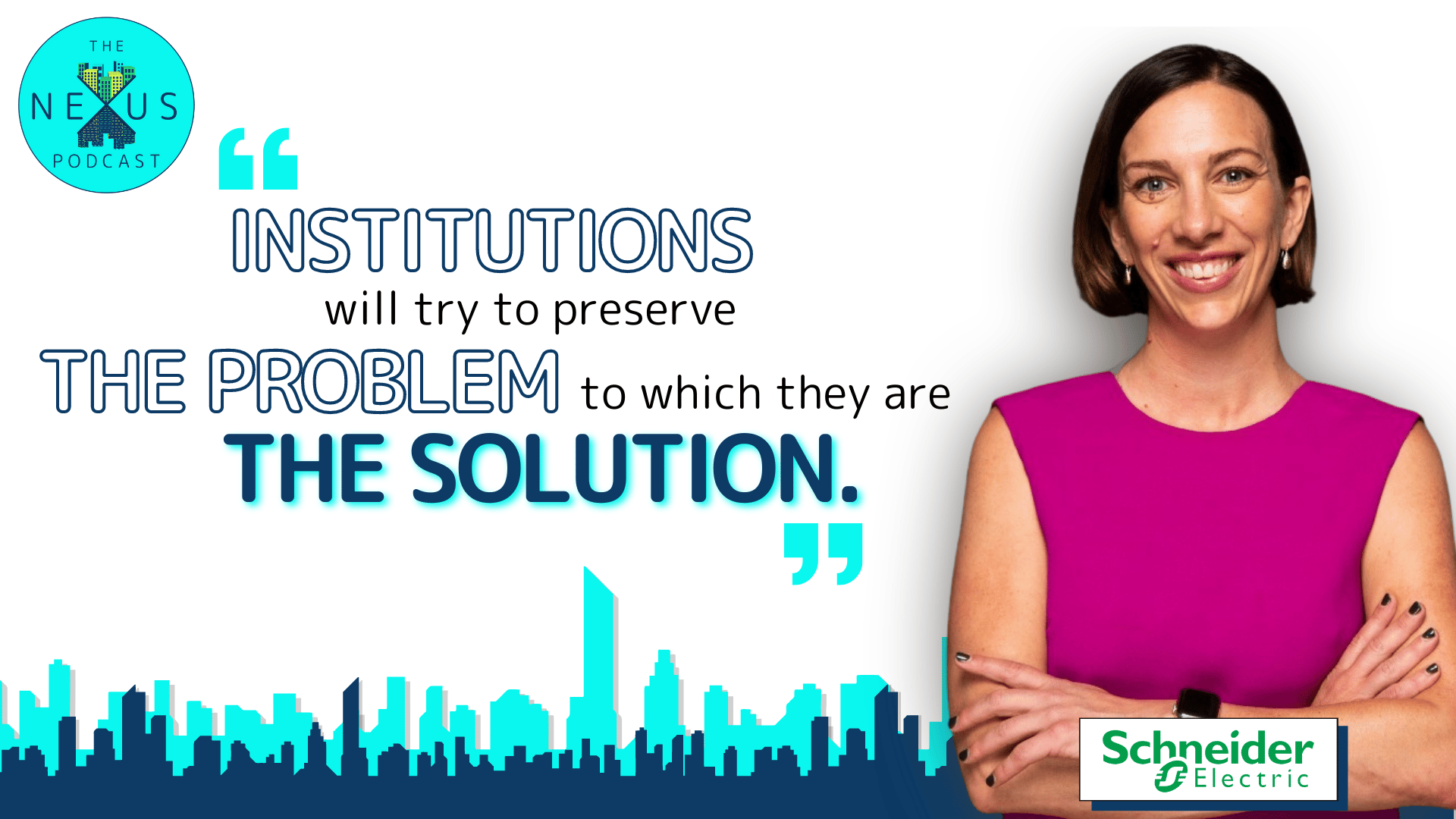 ★ PODCAST: 🎧 #098: Louise Monger on Schneider Electric's approach to digital buildings—We talked about Louise's unicorn-like career, which started as an electrician and moved through roles in facility management, property management, and more before her role at Schneider. I loved hearing her advice to other women working in the smart buildings industry.
Then we dove into Louise's perspective and Schneider Electric's approach to sustainability, open systems, the MSI role, the independent data layer, and engaging with the startup ecosystem.
---
★ MEMBERS-ONLY EVENTS THIS MONTH:
Subject Matter Expert Workshop: Pro member Matt White, Vice President, Building Solutions at Buildings IOT, will present on the intersection of the Master Systems Integrator (MSI) role and the Independent Data Layer (IDL). Why is it ideal to have the MSI as the provider / owner / developer of that IDL? What are the advantages of an IDL that has been influenced by the experience of an MSI? How does having an IDL change the dynamics and impact of an MSI on a project?
Member Gathering: Pro member Lizzie Adams, Vice President, Goldman Sachs Asset Management - Real Estate Investing, will join the group for a candid discussion on setting decarbonization targets, plans to get to those targets, and how technology can help.
Join Nexus Pro now to get the invites and access to the recordings.
---
★ APRIL MEMBER DIGEST: Everything that happened in the Nexus Pro community in April
---
★ ON LINKEDIN: Ben Myers, VP of Sustainability at Boston Properties reflects on the general state of IAQ today.
---
★ READ OF THE WEEK: Dream's Net Zero by 2035 Action Plan—I enjoyed reading this report from Pro member Lee Hodgkinson and his team. They're saying "here's how we define Net Zero and how we're getting there". Hint: it'll be a lot of efficiency retrofits and electrifying heating. Pair that with CRE Faces Mounting Pressure To Cut Emissions 'Without Actually Knowing How to Get There'.
---
👋 That's all for this week. See you next Tuesday!