JCI sues upstarts [Nexus Newsletter #116]
Hey friends,
Sometimes this newsletter is more letter and less news. Usually I'm feeding you my thoughts and reactions to today's trends. But today I wanted to share some news that isn't widely published and get your thoughts and reactions.
Johnson Controls International (JCI) was founded in 1885—two years after its founder, Warren Johnson, first patented an electric room thermostat. Today, 137 years later, JCI holds thousands of U.S. patents and pending patent applications for smart building technology capabilities.
Why does this matter? Because JCI has started suing its smart building technology competition for patent infringement:
The latter lawsuit claims these startups are "effectively forcing Johnson Controls to compete with its own innovation."
Here's an example of just one patent in question, United States Patent No. 8,600,556:
A building manager includes a communications interface configured to receive information from a smart energy grid. The building manager further includes an integrated control layer configured to receive inputs from and to provide outputs to a plurality of building subsystems.

The integrated control layer includes a plurality of control algorithm modules configured to process the inputs and to determine the outputs. The building manager further includes a fault detection and diagnostics layer configured to use statistical analysis on the inputs received from the integrated control layer to detect and diagnose faults.

The building manager yet further includes a demand response layer configured to process the information received from the smart energy grid to determine adjustments to the plurality of control algorithms of the integrated control layer.
Besides this "building manager", JCI's patents cited in the suits include:
"Building Energy Management System with Ad Hoc Dashboard"
"Method and Apparatus for Assessing Performance of an Environmental Control System"
"Building System with Data Model Including Bidirectional Relationships"
"Building Automation System with Integrated Building Information Model"
I'm not a lawyer, but it seems like any software overlay provider with Time Series Charts, Fault Detection & Diagnostics, KPIs, Supervisory Control, Grid Interaction, or an Ontology would be infringing. Meaning: If these companies violate these patents, then most of our Vendor Landscape of almost 300 companies does too.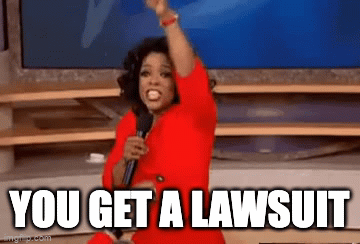 And many of these patents were awarded after the products in question hit the market.
In an industry that's been held back for years by vendor lock-in strategies propelled by proprietary systems, this is unfortunate at best. If everyone needs to pay JCI to create products with these elementary capabilities, that's only going to slow our collective progress. Especially with nascent climate-critical technology like grid-interactive buildings.
What do you think?
Let us know on LinkedIn,
—James Dice, Founder of Nexus Labs
---
✖ At the Nexus
Here's everything worth sharing from Nexus HQ this week:
★ PODCAST: 🎧 #089: M&A Roundup with Joe Aamidor—This was a total experiment so let us know what you think of this and we can do more of it!
We unpacked the three most interesting recent mergers and acquisitions in the smart buildings industry and dove into why, our reaction to them, and other trends they're related to.
---
★ MEMBERS-ONLY EVENTS THIS MONTH:
Subject Matter Expert Workshop: Pro member Pete Swanson, Digital Technology Lead (AUS) at Mott MacDonald, will present on his experience in navigating how to brief with clients, how to understand what they really want, how to convert that into something a contractor can practically implement, the best ways to address the inevitable value engineering / cost management process and 3 key ways to ensure that when you deliver an Elephant your client isn't expecting a Giraffe.
Member Gathering: Pro member Lee Hodgkinson, Head of Sustainability & Technical Services at Dream Unlimited (one of Canada's leading real estate companies with approximately $10 billion of assets under management), will chat with the group about Dream's plans for Net Zero and the technology involved.
Join Nexus Pro now to get the invites.
---
★ ON LINKEDIN: After sending out 115 editions of this newsletter, this is one of the best replies I've received yet.
---
★ LONG READ OF THE WEEK: Electrify: An Optimist's Playbook for Our Clean Energy Future
---
👋 That's all for this week. See you next Tuesday!