Part 8: The App Layer [Nexus Newsletter #132]
Hey friends,
Today, we're continuing our series on Nexus Lore: the core concepts that come up again and again in this newsletter, on the Nexus podcast, in the Nexus Foundations course, in Nexus Pro gatherings, and in the community chatroom.
If you want to start at the beginning, check out our white paper with all 10 parts: Nexus Lore.
Lore is never written by one person, so send us your feedback for v2!
Let's jump into Part 8, the sexiest building block...
The Application Layer
In each layer we've discussed already (device, network, data layers), we've been talking about enabling infrastructure. In most buildings today, this infrastructure is brittle, unreliable, and not secure.
However, assuming we've solved all those layers, we're now ready for the applications the infrastructure enables. The Application Layer sits on top of the IDL and provides outcomes to users through mobile apps, web apps, or process-based applications.
Have you heard the term 'killer app' before?
It's defined as follows: a computer application of such great value or popularity that it assures the success of the technology with which it is associated.
In 1979, the launch of the first killer app, VisiCalc, ignited widespread business and personal use by consumers—which couldn't have been imagined decades earlier when computers were first developed.
Here's something to ponder: There are no apps that 'assure the success' of smart buildings technology. While there are plenty examples of the cream-of-the-crop software providers, there is no killer app that is tearing through the real estate world.
Instead, there are hundreds of application vendors with traction in hundreds or maybe thousands of buildings. Remember: there are ~6 million commercial buildings in the US alone...
What's this mean for this layer and the industry as a whole?
First, it means there's a lot of opportunity—and that's exciting! Second, with all these distinct apps, it means that interoperability problems between applications are a growing concern (that's where the IDL comes back into the picture). Third, it means there's bound to be consolidation through mergers and acquisitions—and it's already happening.
Finally, it means the marketplace is confusing—some call it the Startup Swamp. There are over 400 application vendors on The Nexus Vendor Landscape! In our Foundations course, we teach students a framework that helps wade through that muck.
Because our industry's buzzwords don't hold much weight, we must first think about applications in terms of the Capabilities they provide and the Use Cases they enable. Apps in our industry have 5 general types of capabilities: centralize/visualize data, analyze data, control underlying systems, optimize workflows, and engage stakeholders. With that basic understanding, we can then narrow the list from 400 down to a shortlist to start taking seriously.
The building owners I've spoken with are implementing several strategies as a response to the messiness: do pilot projects to learn more, hire internal smart buildings experts and external consultants to sift through the Startup Swamp, wait it out, remain flexible, and focus on infrastructure first.
The leading owners have done all of the above and now they're working on portfolio-wide rollouts of applications that enable their top priority use cases, which vary by building type. For example, one large office building owner told me last week at Realcomm that they're rolling out applications to:
automate energy and ESG data collection & reporting;
digitize occupant amenities; and
digitize commissioning and maintenance (E.g. fault detection & diagnostics).
For the others, at some point, they must take action whether it's messy or not.
Do you agree? What did I miss?
Let us know on LinkedIn,
—James Dice, Founder of Nexus Labs
P.S. A great book for thinking about this unique place in our industry is Geoffrey Moore's Crossing the Chasm. Nexus Pro members can go deeper by checking out my essay applying Moore's framework to analytics applications in our industry.
---
✖ At the Nexus
Here's everything worth sharing from Nexus HQ this week: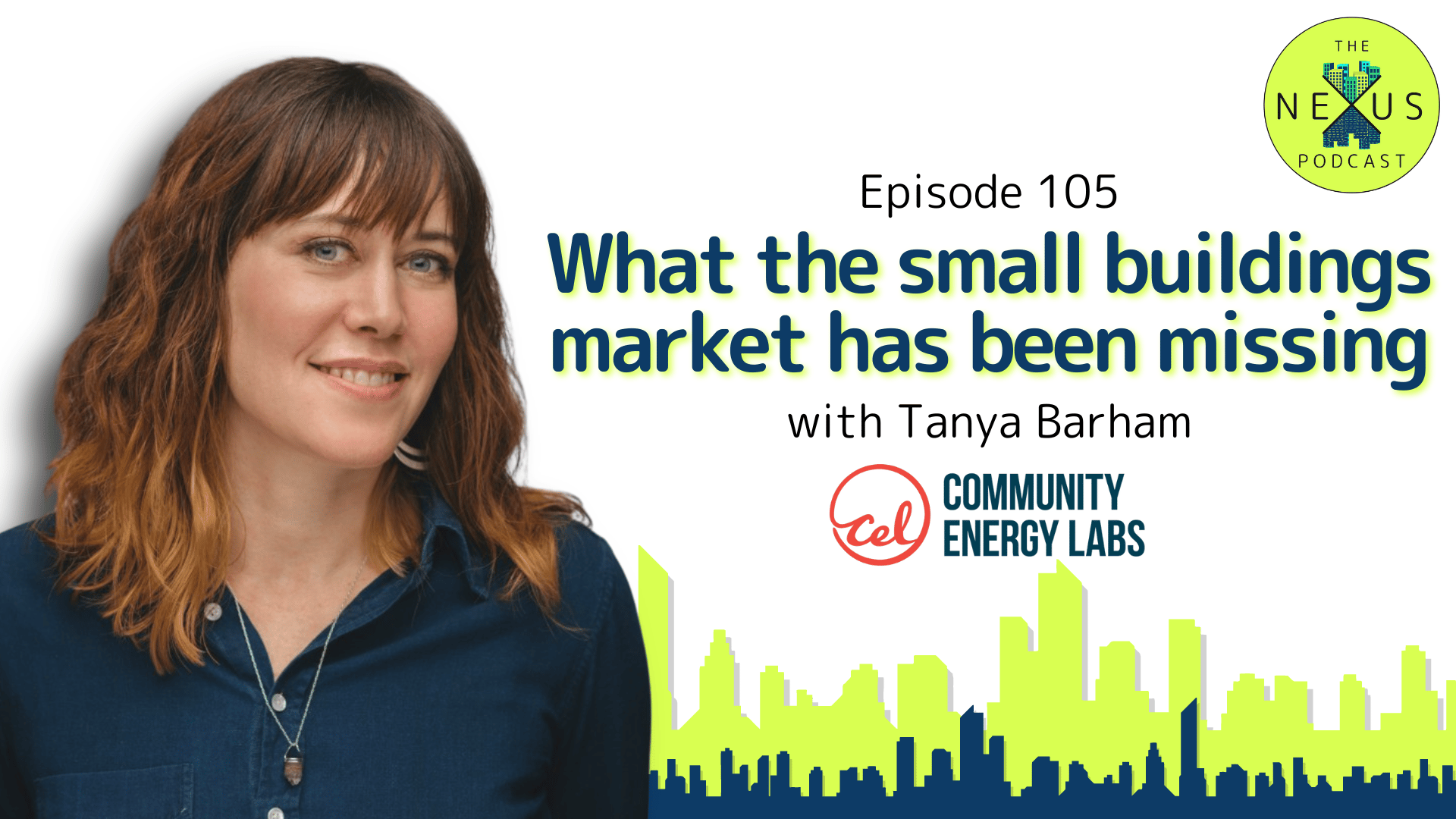 ★ PODCAST: 🎧 #105: What the small buildings market has been missing with Tanya Barham—Episode 105 is a conversation with Tanya Barham, founder of Community Energy Labs, a startup out of Portland.
If you like smart building founder stories, this one's for you. Tanya takes us through the many stops on her career journey from the utility industry, intro wellness, back to utilities, and now into buildings.
Community energy labs sits at the intersection of a lot of topics we've covered on the show before: advanced supervisory controls, grid interactive buildings, and small buildings. We'll throw in public entities for good measure.
---
★ FROM THE ARCHIVE: How can analytics go mainstream? (Pro members only)
---
★ MEMBERS-ONLY EVENTS IN JUNE:
Subject Matter Expert Workshop: CEO at BuiltSpace Technologies Corporation, Rick Rolston presented on Motor Monitoring
and Analytics.
Subject Matter Expert Workshop: Co-Founder and CTO at Senseware, Julien Stamatakis, will join us as the subject matter expert leading the conversation on how Real-Time IAQ Data Drives Modern Building Management.
Member Gathering: James and Pro member Brian Vaughn of Cushman Wakefield will discuss the key ways technology is transforming building operations. James and Pro member Andrew Knueppel, also of Cushman Wakefield, will discuss the three categories of MSIs in the marketplace today. Plus, breakout rooms for networking!
​Join Nexus Pro now to get the invites and access to the recordings.
---
★ ON LINKEDIN: Sad to be leaving another great Realcomm conference! My top highlights are all about hanging with the Nexus Labs community…
---
★ VERY NERDY WATCH OF THE WEEK: Zero Trust Applications Applications for the Grid
---
👋 That's all for this week. See you next Tuesday!