Platform police [Nexus Newsletter #124]
Hey friends,
I love online courses—and not just because I teach one. I'm also an avid student. With our world moving so fast, I see online courses as the best way to learn frameworks that help us make sense of all this change.
Right now, I'm taking the Platform Strategy Sprint by Section4.
We all interact with "platform businesses" many times per day. Think about your own life. In the last week, have you:
Called an Uber?
Played a song on Spotify?
Used a third-party app on your smart phone?
Ordered something from Amazon?
Followed me on LinkedIn?
Binged on Netflix?
Stayed at an Airbnb?
Eaten food from DoorDash?
Doomscrolled on Facebook?
All of those are examples of platforms. As the course instructor said, "platforms are all around us... they're like oxygen."
Platform businesses have taken over our lives because they create more economic value, they're a more efficient way of doing business, they remove more friction in people's lives, and they're more difficult to complete with.
But platforms haven't taken over everything, have they? In the buildings industry, we have mostly traditional products and services. Actual platform business models are few and far between—despite nearly every smart buildings vendor claiming to sell a platform!—and I think it's holding the entire industry back.
Let's unpack where we're at using Section4's definition of a platform and Uber as an example.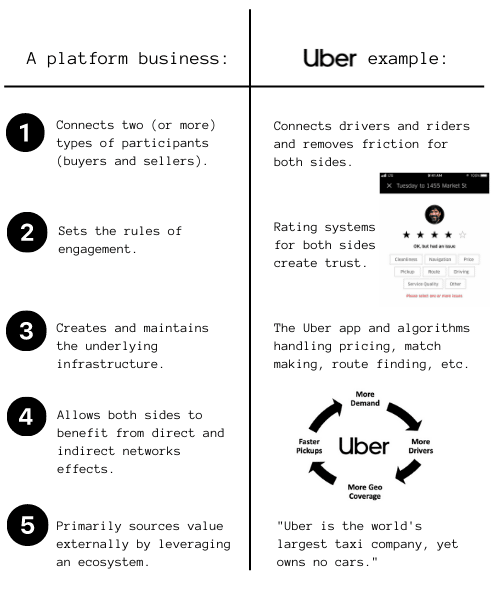 It's simply difficult to find a smart building "platform" that meets those 5 criteria.
Let's look at Building Operating System software as an example. "Operating System" is a term borrowed from the personal computer industry, where Windows, macOS, and Android operating systems are platforms that connect buyers and sellers of apps, support thriving ecosystems of third parties, and create massive network effects.
But let's face it: Building Operating Systems rarely do any of those things. They are software products that use data from multiple siloed building systems.
Luckily, we do have a lot of platform-like patterns playing out in some corners of the industry. Here are a few examples from the Nexus podcast archive:
Open source operating system projects like Smart Core OS and Place OS, where the ecosystems share and re-use integration drivers across buildings.
Mapped's CEO Shaun Cooley thinks of the independent data layer as a platform for all types of "producers and consumers of data".
Azure Digital Twins and Invicara allow domain experts to assemble the ingredients of a digital twin and apply them to solve their customers' problems.
What examples of true platforms can you think of? Is the industry ripe for disruption by a platform business?
Let us know on LinkedIn,
—James Dice, Founder of Nexus Labs
P.S. We teach smart building technology mental models like this in our Foundations course. Our private cohort schedule is open starting in June. More info here.
---
✖ At the Nexus
Here's everything worth sharing from Nexus HQ this week: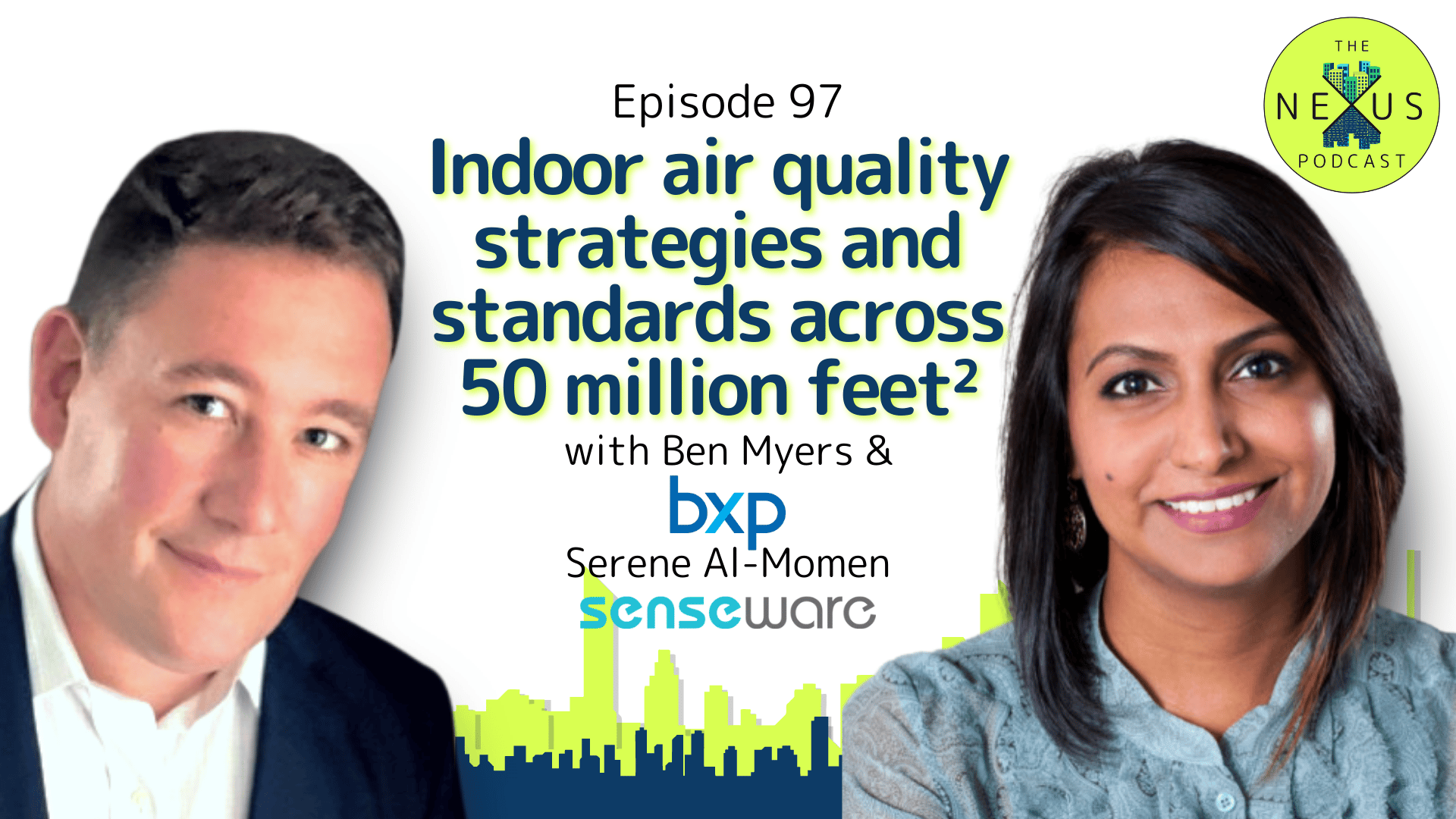 ★ PODCAST: 🎧 #097: Indoor air quality strategies and standards across 50 million square feet—Senseware's founding story, general trends in indoor air quality in real estate post-pandemic, how Senseware and Boston Properties are working together to deploy IAQ technology across the 50 million square foot portfolio, how Boston Properties approaches IAQ standards, and more.
---
★ MEMBERS-ONLY EVENTS THIS MONTH:
Subject Matter Expert Workshop: The co-Founders of LogCheck (acquired by Building Engines and then JLL last year), Mike Brown (Pro Member) and Ben Ragheb, shared a great presentation on building operations, the problems LogCheck solves, and their experience starting and selling the company.
Member Gathering: The panel for April's Pro Member Gathering is made up of Pro members Alec Manfre, CEO and Co-founder at Bractlet, Christopher Naismith, CEO at Audette, Matt Brown, Founder & Head of Product at Simuwatt. They will chat with the group about digitizing the decarbonization project development process.
Join Nexus Pro now to get the invites and access to the recordings.
---
★ ON LINKEDIN: The realestate industry has evolved from a product-based business to a service-based business
---
★ READ OF THE WEEK: Feds Uncover a 'Swiss Army Knife' for Hacking Industrial Control Systems
---
👋 That's all for this week. See you next Tuesday!